Wine Rooms
The cooling system is the heart of your wine cellar. Our wine room coolers ensure your wine is properly cooled, letting it mature gracefully, increasing in quality and value. Janal Heating & Air conditioning offers various cooling options for custom wine cellars. For more information on installation feel free to contact one of our wine storage consultants who can help you navigate the different cooling options and create a solution that fits your needs. You can contact us by email, phone, or by live chat(bottom right corner).
3 types of Wine units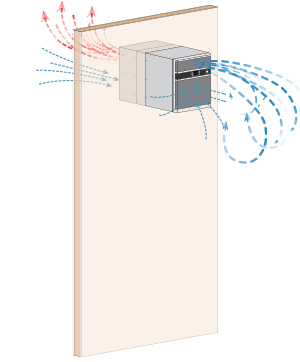 .Self Contained systems are the most economical and easiest to install. They are designed to mount between the studs of an existing wall, and they do not require a licensed HVAC/R installation technician. One end of the system blows cool air in to the cellar, and the other end absorbs heat from the cellar and exhausts the heat into an area adjacent to the cellar. Self-contained units will make more noise than a split or ducted system.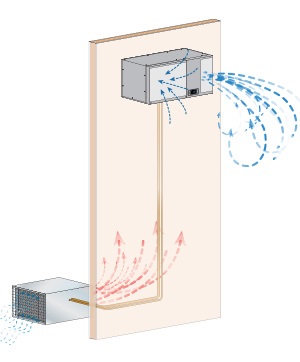 Split systems are often the most efficient way to cool a cellar. Cooling unit condensers are typically noisy and require significant space for ventilation, in most cases the cellar location does not include an area for these functions. By splitting the cooling system, the condenser can be placed in a space better suited for heat and noise dissipation while the quiet evaporator is inside, or near, the cellar. A licensed HVAC/R technician is required for the installation
Ducted systems can be Self-Contained or Split systems and typically have more installation options/flexibility. The unit may be installed up to 25 ducted feet from the cellar, with the cool air flowing to the cellar and the heat exhaust ducted to the outside of the home. Ducting is also a more aesthetic choice for wine collectors who do not want to see a cooling unit in the cellar. Noise from the unit will be reduced or eliminated, depending on the installation.
What wine cooler brand should I get?
Based on quality, reliability, customer service and reliability, we recommend going with WhisperKool. We've installed many different brands over the years and know which ones are the best and worst. WhisperKool never failed to disappoint us. They are an overall great product. Heres a link to whisperkools website http://whisperkool.com/